Residents around the Hawkesbury should be receiving their latest land valuation letters from the Valuer General. I got mine this week.
I'll be making a more detailed analysis when some details crystallise, but since it's already been mentioned on social media, let me get some data out to you.
Every few years, the VG revalues your land. It has nothing to do with the improved value of your property (that is, with your house and other structures), but is used by Council to calculate your rates. This Council voted to turn the knob up on the formula which magnifies swings in land value on your rates. I and my fellow Liberal Councillors opposed that as unfair and this remains our view. I've made several videos and posts about this in the past, if you want a reminder.
For example, speculation caused by development near the NW growth sector caused land values in Oakville and Vineyard to soar in 2017, and the Council rubbed salt in the wound by applying for a staged 31% rate-hike (the SRV) which is still flowing through to you.
Here are three tables from Council's new 2020 analysis of the effect of the new valuation on rates, by suburb.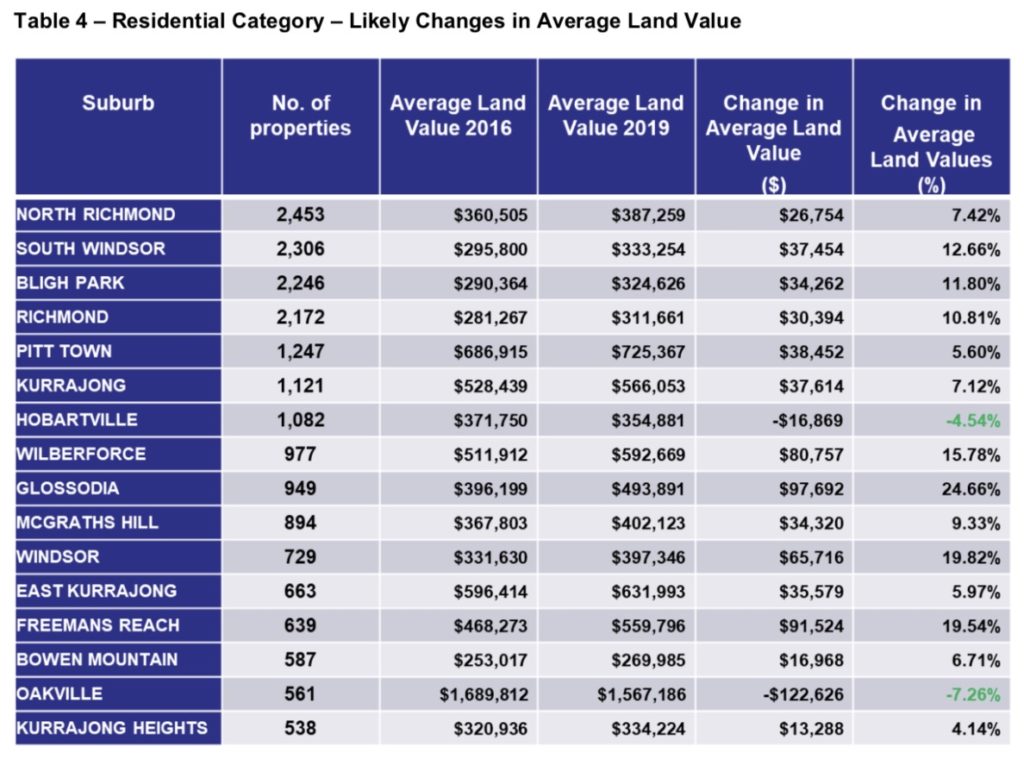 It shows that land values in Oakville have relaxed -7.26%, the biggest suburb drop in this round. However, given land values spiked 130% in the 2016 Valuation (206% in Vineyard, 66% in Maraylya, and 44% in McGraths Hill), this is little relief.
If this were the only factor, the average Residential rates in Oakville would drop $710p.a in the 2020-2021FY.
BUT, since the latest stage of the SRV is also going to be applied to your next rates bill, most of the gains are eroded.
So, the average rates in Oakville in 2020-21 will be $3598pa, down from $3905 this year, a saving of only $307.
These figures need to be taken with these caveats:
• Average figures are only that, and your own situation may differ.
• I've asked Council staff for more granular data including median rates, and I'm still waiting for them.
• These per-suburb figures are not final, as the VG has indicated some variations may occur in areas affected by the fires. This will affect the balance between suburbs and therefore the proportion each of us will pay.
Some people's rates in Oakville and elsewhere doubled (or worse) in 2017, and this new land valuation will give you very little relief. You're right to be angry. The current Council delivered a quadruple-whammy to you by abolishing the Rural-Residential category, increasing land value as an input to the rating formula, spiking everyone's rates by 31%, all at a time of rampant land value property speculation, which appears to be continuing.
I will continue to advocate for a fairer system.
Related