After the unqualified success of Hawkesbury's Australia Day celebrations down by the river, the first Hawkesbury Council meeting of 2018 occurred on Tuesday night and went from 6:30pm and until well after 1am. A number of issues of consequence to local residents were on the agenda.
Thankfully, now that Council is "podcasting" its meetings (a move I pushed for and endorsed), I can bring you the audio of my contributions as part of my summary in an effort to remain accountable to you.

The Special Rate Variation
Firstly, a Mayoral Minute on the question of the >30% rate-hike our Labor-Greens dominated Council is applying for, was debated. I took exception to a proposal to use ratepayer's money for Council to seek to mail out a political "fact sheet" on the SRV when some of those facts are in dispute. I pointed out that the depth of feeling in suburbs like Oakville arise because, when you do an analysis of rates paid suburb by suburb (something I distilled from the raw data provided by Council staff — a spreadsheet with over 24,000 rows in it), it reveals that some suburbs are carrying as much as 271% of the rating burden compared to other suburbs. The analysis is based on the total rates collected divided into the number of residences in each suburb. The system implemented by the previous Liberal Council in 2013 was far fairer than the system now in place. If the Liberals are re-elected to govern in 2020, I and my Liberal colleagues commit ourselves to fixing this problem.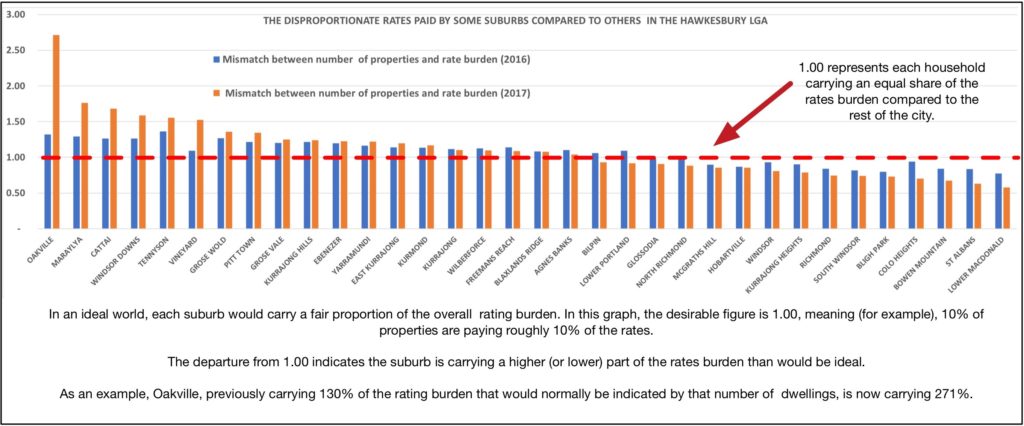 Those of you who wish to see the spreadsheet containing this analysis can click Suburb Analysis of Hawkesbury Rates 2016-2018.
My remarks to the Chamber are here, followed by those of my Liberal colleagues (@ 13m24s, if the link starts the audio at the beginning rather than at the right time-index):
I will shortly have more to say about rates in a future post.
A new child-care centre in Oakville
Last August, Council received a development application for the construction of a new child-care centre in Smith Road at Oakville. Although generally welcoming of the provision of services like this to the Hawkesbury, I called for the application to be deferred due to a lack of parking, the proximity of the building to a neighbour's fence, and the issues related to outdoor play, noise,  and traffic control on the street outside.
In this case, the deferral allowed the applicant, Council planning staff and concerned near neighbours to come together and  address those concerns. The revised application represented a real improvement; the development is now  more centrally located on the applicant's land,  and I was happy to move the recommendation to approve the development.
Here are my remarks (@15m24s):
More haggling over Windsor Bridge
People frequently ask me about my opinions on the current project, now well advanced, to replace Windsor bridge with a new structure. And my answer is "It's complicated".
My mixed feelings arise from an awareness that the last bridge was built in 1874, If we only make this kind of decision every 144 years, then we have a solemn obligation to future generations to get it right. It disappoints me that we are spending close to $100 million on a project that condemns another century of heavy traffic to travel through a historic square. It is significant that both the Labor and Liberal tickets to the last Council election supported an additional crossing of the river (whether that is termed a "bypass" or not is immaterial) as a major infrastructure priority.
So: I hope that this bridge will be built soon… and elsewhere.
However, as a local government Councillor, I have to recognise that this is a State government matter. I wish that the State government would re-think its current plan in favour of new bridge at a different location that will be regarded as more visionary by our descendants, but I also recognise that local residents should not wait another decade or more for an alternative that isn't planned or budgeted for, and for which there is presently no political will.  If you're stuck in the endless Windsor traffic bottleneck morning or evening, my sympathies are with you. There has already been too much delay.
I neither completely buy into the histrionic rhetoric of CAWB when they say that the plan represents the "rape" of Thompson square, nor the agitprop of the RMS, whose estimations of the improvement to traffic flow are at best suspect. A new bridge in this location will make some improvement to traffic, but in terms of cost-benefit, it's a very poor substitute for a bypass, which could cost only a little more.
However, the only solution that has money on the table now, that has planning well advanced, and which stands any chance of being concluded within this decade, is the present one. No other funded plan exists, even on a napkin. I think this is a point the detractors of the project ignore. How much longer would the community have to wait if the whole process had to be started over? And that is why, with these misgivings, I have consistently supported the construction of the new Windsor bridge whenever the matter has come before us.
So where does that leave Hawkesbury Council? We are not the consent authority for the bridge. Our opinion is, in the scheme of things, not as important as some of my colleagues' egos think it should be. Our responsibility is for the built environment that will be ours to manage after the construction finishes. This includes having a constructive role in consulting over the fabric and layout of the public spaces; the lighting, footpaths, street furniture, heritage interpretation, plantings, signage, public access and amenity, and so on. It disappoints me that some of my colleagues, having sought election precisely to be immersed in this issue, have instead fouled the efforts that have been made to permit the best outcome to be achieved. They repeatedly stick their fingers in their ears and think that saying "No" to everything will make the problem go away. It won't.
The case in point last Tuesday was the RMS plan to retain the first span of the old bridge as a viewing platform after the new bridge is built, to act as a historical interpretive landmark. Regardless of your opinion of the overall project, if there has to be a new bridge, this is unarguably a way of enhancing the Thompson Square precinct. It's a great idea. And because this will ultimately become Council's responsibility, the RMS sought our concurrence for the plan. And what did the Councillors elected on the "Windsor Bridge protest platform " do?  Quibble, obstruct and dissemble. The annual maintenance cost for the static structure will be ~$5000p.a, and there is plenty of precedent for the RMS to pick up the tab for this — small change on a $100M project. And yet every single vote on a necessary and practical aspect of the project that requires a clear indication of intent from Council to allow planning to proceed is instead diverted into a sterile debate on the whole bridge project. It's becoming tiresome.
Newsflash: The RMS knows what Council thinks. It doesn't need to repeat itself every five minutes.
My remarks to the chamber on this are here (@7 minutes in)
Unapproved Dwellings in the Hawkesbury
Here's a common story: Someone lives in a tiny fibro house on acreage in the Hawkesbury. At some point during the 1970s or 80s, they do as many did and build a bigger brick house on the same block, and move in. They go through the old fibro house and meticulously disconnect the water and electricity, and a council inspector certifies it as uninhabitable. There is no obligation to demolish the old structure. The inspector leaves; the owner carefully reconnects the utilities, and the kids (or a parent, or someone else) moves in. No one cares. Decades pass.
This story is common enough that I could drive you past half a dozen such "illegal" dwellings in Oakville alone. Because I have long been a supporter of detached-dual-occupancy, I've always been kind of pleased that this is one rule that Council turned a blind eye to. I've never spoken to the neighbour of such a property that was put out by such an arrangement; easy to understand when you're on enough land that your neighbours living arrangements don't disturb you. I'd be happy for this to continue.
But here's another story: Someone allows a friend in need to take up residence in a boat shed down by our river with a maximum flood risk. They aren't on anyone's census or the radar of emergency services, and then a natural disaster strikes. How many people need evacuating? From where? Manifestly, it will always be unwise to permit anyone to live in such a place, and if Council knew about it, it would have to discharge its duty of care to act.
How we deal with these two ends of the same demographic phenomenon is vexed, and I supported a call for a report to be brought to Council.
My remarks to the chamber are here (@2m50s):
Related