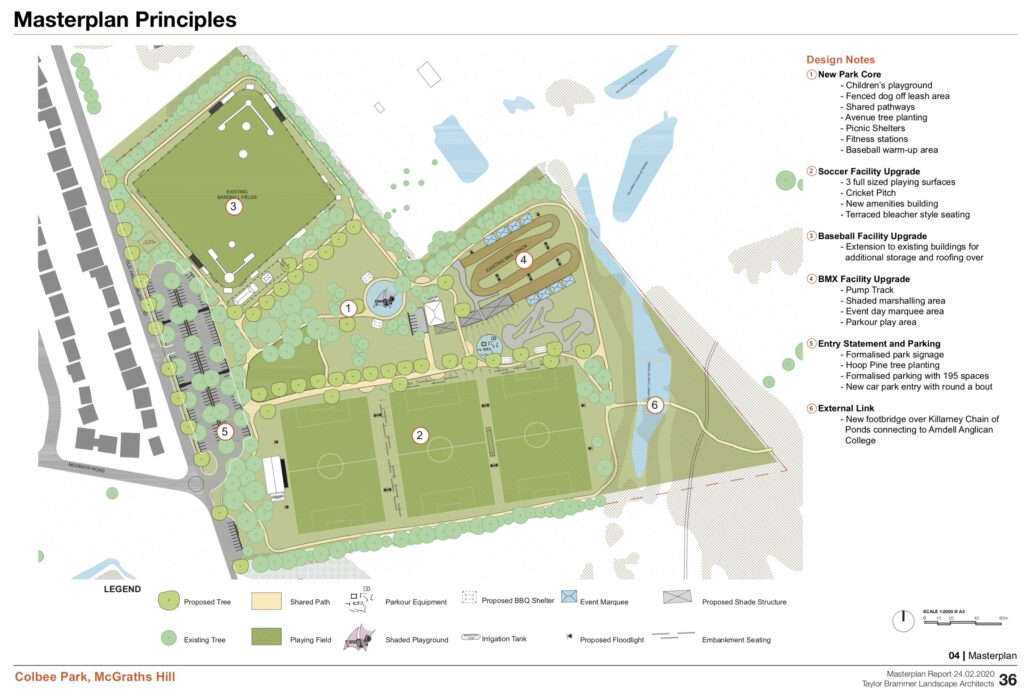 Colbee Park in McGraths Hill is one of our most used, and most neglected sports fields. I should know, as a Soccer Dad whose child's club was based at the park for a decade.
Despite near constant use from the Oakville United Soccer Club, the Oakville Raiders Baseball Club, the Hawkesbury Hornets BMX Club, frequented by dog-walkers and near the pleasant wetlands of Killarney creek, the park also suffers from limited parking that turns into a quagmire with a breath of rain, insufficient seating, has little shade, an open drain that cuts the park in two, and buildings so inadequate that sports clubs have had to use shipping containers to stow their club's gear. The baseball club lost all their uniforms and gear when it flooded earlier this year.
Hopefully, this can begin to change. Council will consider the exhibition of a new masterplan for Colbee Park at our next meeting.
The plan includes upgraded fields, new play equipment, better parking, proper amenities and storage for clubs (including a female change room), seating and shade structures, a Pump BMX Track, and a footbridge over the Creek for nearby Arndell school.
The only thing missing is funding to make it happen within ten years. I'll keep advocating on that front.
The draft Masterplan can be seen as attachments to our Business Paper for our Council meeting of 8/9/20 (Item 170), at this link.
I'll let you know when the plan is open for public comment. If you're a user of Colbee Park, I encourage you to have your say.
Related