James and Nadine lived in Harkness Road in Oakville, squarely in the area we call Vineyard Stage 1, a location of intensive subdivision caused by the North West Growth Sector.
Their home was nearly, but not quite at the top of a hill. The developers over the road had already razed the houses that had stood there since the 1970s – family homes that had stood on acreage properties at the crest of that hill, and had eaten into the land like you'd take the top off an egg.
Prior to the bulldozers arriving, rainwater drained off the top of the hill equally in all directions. But since the excavations began, the hilltop opposite was now a shallow, muddy basin. But that basin now had a spout, and the spout was pointed squarely at James and Nadine's home, which sat at the bottom of a sloping driveway.
When the rains came in March 2022, that water filled the basin, which had been constructed with no sedimentation control, and poured out of its lowest point – the spout opposite their home. A muddy slurry ran through their home to a depth of some inches. James and Nadine's property were ruined, and they estimate the damage into the tens of thousands of dollars. Recent arrivals to the home, they had not yet taken out insurance.
This story is a tragedy. It parallels that of many other Hawkesbury home owners on lower land whose houses were also flooded out by the rising of the river to 13.7m at Windsor, a height not seen since March 1978.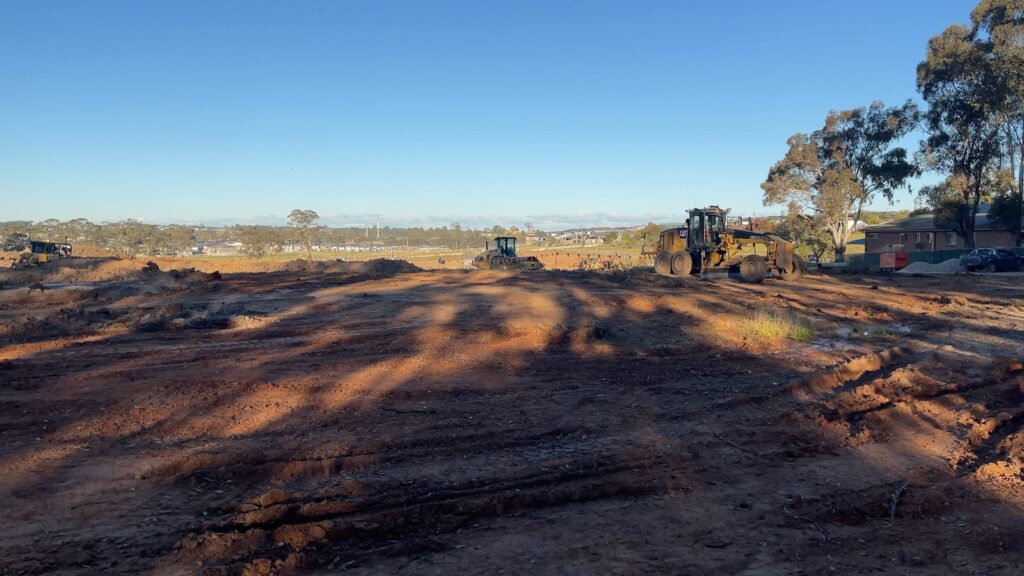 But James and Nadine's story is distinct in two respects. The first is that this house had stood there for decades, and the elevation in Harkness Road meant the property had never flooded before. It was well above the riverbank properties that flooded in early 2021 and March 2022.
The second reason, and the reason James and Nadine have engaged me to advocate for them, was the substandard response they had received from Hawkesbury City Council.
James and Nadine never wanted to go public with their story, until months had elapsed and they came to the conclusion that publicity was the only way they could get answers to their questions.
Timeline:

First week of March – rain event, home flooded.

Second week of March – Council contacted seeking help

25th March – Clr Lyons-Buckett and myself contacted about non-response from Council.

28th March – I attend the Harkness Road property and record video, part of which is in the main video above and which was sent privately to Council staff to lay out the problem clearly.

12th April – Clr Lyons-Buckett and myself speak directly to the General Manager after a Council meeting to ask for a response. One is promised.

20th April and 13th May – Having had no response from Council, Councillors are again asked to chase the matter. I speak to our Director of Planning by phone.

13th May – An email from the General Manager to James and Nadine says "I'll follow this up with my team and get back to you as soon as I can."

June 3rd – James and Nadine decide to go public given the complete lack of a satisfactory response from Council.

June 14th – The Hawkesbury Post makes a media request directly to Council. It is not answered by date of this publication (June 21st).
Three months without a satisfactory answer. This is not good enough.
As a Councillor, I pledge to represent residents when they have issues with Council. I'm not here to defend Council when the level of customer service they deliver is not up to standard.
Who wears the liability here?
Is it the developers? They've now written to James and Nadine and told them all communication needs to be through their insurers.
Is it the contractors? The excavations they performed allowed water to pool on the site and pour through a home that had never flooded before. When I visited the site in March, no sedimentation controls were present. When I visited on June 3rd, I could see they had belatedly been installed.
Is liability with Council? Were there conditions of consent that were not enforced.
I have been calling for reform within Council, especially in the area of our planning, compliance and enforcement divisions, for some time. This story just underlines for me how chronically under-resourced Council is in this area. I get more comments from ratepayers about this than many other issues.
I am bringing this issue to a wider audience because even as a Councillor I have been unable to get timely answers to my questions. Let's hope this does some good.
Related