Today, the Liberal Hawkesbury Councillors issued a media statement to express their concern about the current Council's inconsistent attitude to development in the Hawkesbury. This post is intended to provide more information on our position.
On the 29th of November last year, Council voted to receive a report into the "Kurmond and Kurrajong Investigation Area Survey". The matter was on the agenda in the last days of the previous term, but they punted it to us to allow the new Council to consider the report and take whatever action we saw as necessary.
This report sought to inform Council of the clear wishes of the residents of Kurrajong and Kurmond concerning the scale and form of development that they preferred. The summary of the report declared:
"Overall, the results of the survey showed that there was more interest in large lot residential/rural- residential development throughout the Investigation Area than for further residential development, particularly within the existing villages of Kurmond and Kurrajong. There is some support for large lot residential/rural-residential development and residential development immediately surrounding the village of Kurrajong and large lot residential/rural-residential development and residential development immediately surrounding the village of Kurmond"
The results were clearly tabulated, looking (in part) like this: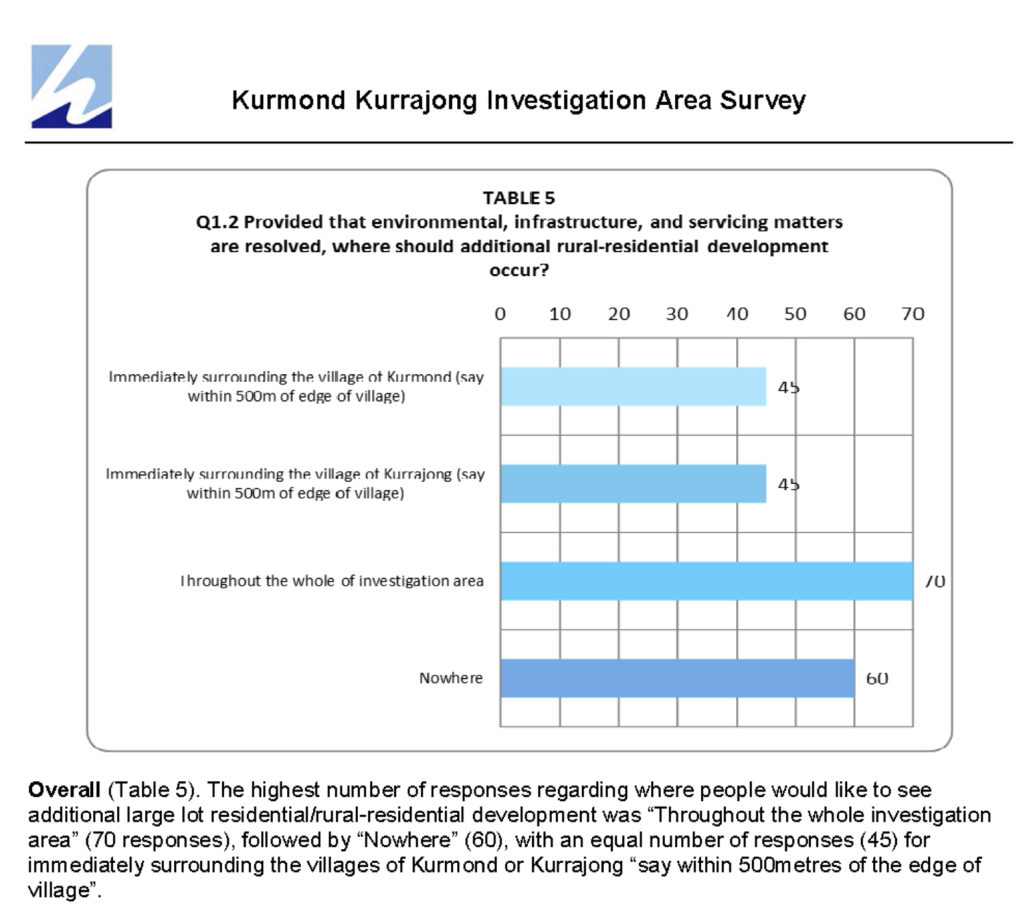 The recommendation that came to Council from staff said
Council receive the results of the Kurmond and Kurrajong Investigation Area Survey.

Council Staff identify a number of specific areas (based upon Constraints Mapping, survey results and the preferred approach as outlined in this report) for possible development of additional large lot residential/rural-residential development throughout the Investigation Area and some residential development up to, but not within, the existing villages of Kurmond and Kurrajong.
The identified areas be further consulted with the community regarding future development.
The results of that further consultation be reported to Council." 

At the prompting of Labor councillor Amanda Kotlash and Greens Councillor Danielle Wheeler, the following two items were added to the motion:
5.   Council not accept any further planning proposal applications within the Kurmond and Kurrajong investigation area until such time as the structure planning as outlined in this report is completed. Council receive a progress report on the structure planning prior to July 2017.
<
p style="padding-left: 60px;">6.    Council continue processing the planning proposals within the investigation area that have received support via a Council resolution to proceed to a Gateway determination and any planning proposals currently lodged with Council as at 29 November 2016. 

Mayor Lyons-Buckett recused herself as her own home is in the investigation area, and the motion was passed 10:1, with Clr. Rasmussen the only dissenter.
During the debate, it was clear that there were several reasons why the motion could be supported in a broad and bipartisan fashion.
The first reason was because there was an acknowledgement of the broad purpose of the Investigation Area process. The initiating Mayoral Minute in February 2015 identified the need for "Implementation planning for the Hawkesbury Residential Land Strategy (RLS)", and "the need to undertake structure planning and development contribution planning for development areas."
My worthy colleagues on Council frequently cite an epidemic of ad-hoc development as the reason for slamming on the brakes, as though the Hawkesbury is sleepwalking into a Rouse-Hill style densification without a broader appreciation of the physical and social infrastructure required to make those communities accessible, sustainable and in keeping with the semi-rural qualities we value highly in the Hawkesbury.
I'm on the record myself as being uncomfortable about the pace of residential development in the LGA, but the key difference is that I respect the need for the proper planning processes to establish what should and shouldn't happen in various parts of our city.
The motion that the Green and independents willingly sponsored acknowledged just this: That this was a well-conceived process of asking the residents of Kurrajong and Kurmond what they wanted, and then proceeding to identify the large-scale and long-term resource allocation and planning work that would need to be done, and then reporting back to Council.
The proof that this was the case is in the brief that was given to Council staff. They were to formulate:
What land may be suitable for large lot residential / rural residential development 

What land may need to be protected or conserved (e.g. land containing threatened species or endangered ecological communities, riparian areas, land with significant slope, significant view lines) 

The nature and location of future development (e.g. the type of residential development and minimum lot size requirements) 

Likely development yield and take up rate 

The extent of rural village expansion and limits to growth 

The nature and location supporting public infrastructure (e.g. roads, intersections, drainage infrastructure, community facilities, parks and recreation facilities) 

Mechanisms to fund and provide supporting public infrastructure. 

And they gained concurrence from local residents that the planning principles that should be adhered to should prioritise:
Essential services under the Hawkesbury Local Environmental Plan 2012 and fundamental development constraints are resolved.
Building envelopes, asset protection zones (APZs), driveways and roads are located on land with a slope less than 15%.
Removal of significant vegetation is avoided.
Fragmentation of significant vegetation is minimised.
Building envelopes, APZs, driveways and roads (not including roads for the purposes of crossing watercourse) are located outside of riparian corridors.
Road and other crossings of watercourses is minimised.
Fragmentation of riparian areas is minimised.
Removal of dams containing significant aquatic habitat is avoided."
These are precisely the issues that the green-independent Councillors are obstructive over now, so of course it made sense in November for them, and us (the Liberal Councillors) to support this process.
However, the second reason that the motion drew broad support was, crucially, that it granted procedural fairness to applicants who had begun, and in many cases, were well along in the process of submitting planning proposals or development applications that were consonant with the kind of development that the report identified as desirable by the communities of Kurrajong and Kurmond! Look at point six: Any application lodged before the 29th of November and which had earlier been supported by a Council resolution, or anything lodged in the system before that date would "continue to be processed". This meant that the Greens, the Mayor, the independents – all of us that voted for the motion, accepted that the only fair and consistent policy to enact would be to continue to see existing applications move through Council, and proceed to Gateway Assessment (the "higher up" review of planning proposals by the NSW Department of Planning, who are also cognisant of the "bigger picture" issues relating to roads, utilities and sustainability).
It was regarded as fair that, seeing as the clear preference of the new Council was to disfavour development west of the river, that new applications be put on hold. And it was equally understood as fair that procedural fairness be granted to planning proposals "in the pipeline", not that there were even very many of them (see map at the header of this post). Many families with larger acreage holdings had entered into the expensive process of seeking approval for large lot subdivisions (~4000m²) in good faith. Council is entitled to indicate a new direction for new applications, but it is not entitled to cut off applications already in the system at the knees.
Sadly, this agreement has not been honoured, and the Green and Green-aligned Councillors have reneged on the processes that they themselves seconded and supported in the Chamber.
Since the 29th of November, a number of extant planning proposals that met the criteria of the Kurmond/ Kurrajong Investigation Area have come to Council and been repeatedly knocked back for reasons unrelated to their individual merit, demonstrating a complete inconsistency with Council's resolved position in November. I and my fellow Liberals have remonstrated with the Greens and Independents, and I might say, have frequently been supported by the Labor Councillors Amanda Kotlash and Deputy Mayor Barry Calvert. In this new Council, on this matter, the "establishment parties" represent professionalism and respect for process, and the green-independent Councillors represent stumbling, amateur opportunism.
One Councillor disputed factual assertions by Council staff, claiming his half hour of Googling on the question of the capacity of waste water recycling systems trumped the considered data put forward in the business paper. As a result, one applicant will have to install a second water treatment system for a single residence that currently has an occupancy of four. Cost: many thousands of dollars. Another Councillor barely manages to stay awake, punctuated by repetitive and irrelevant lines of questioning. Another Councillor admits their ideological "never, ever" predisposition to evaluating all proposals, and in seeming disregard of any evidence put forward. This isn't government by the deliberative consideration of the evidence. This is government by ingrained bias and thought-bubble.
Now I hasten to say that I enjoy the fraternity of my Councillor colleagues, and also with Council staff. We get genuinely along, despite our differences of opinion, and I value that we generally treat each other with respect. However, we're not there to agree on everything, and if I think our community is ill-served by this kind of inconsistency, I'll call it out.
Today, our Mayor has tried to refute the idea that the Council is opposed to "any development west of the river". In support, she states that 74 DA's were approved by Council in the last month, with 45 of them west of the river, and 29 east of the river. This is a little disingenuous, considering a DA can be anything from a shed to a building extension, and that most of these DA's were approved by staff under delegated authority.
A better measure is to look at the growing list of inconsistent decisions that would otherwise have been covered by Council's resolution of 29 November.
On the 29th November 2016, Council considered a planning proposal for 431 and 431a Greggs Lane, Kurrajong. It was an 8 lot subdivision, each lot being no smaller than 4000m². It fell within the investigation area that Council had only moments earlier voted to continue to process extant applications for. Yet Council voted to defer. Then, on the 13th December they voted to approve, and again on the 11th April 2017, voted to continue the process.
Fine, so far. Their attention span held. But look what's happened since:
31st January: 42 Bells Lane, Kurmond. 4 lot subdivision. Voted down.
31st January: 98 Bells Lane Kurmond, voted down.
14th February: 42 Bells Lane Kurmond (via Rescission motion). Defeated again.
11th April 2017: 631 Bells Line of Road, Kurmond: Voted to defer.
What was different between the Greggs Lane application and the others? Nothing. Applicant after applicant (frequently families dealing with the desire to secure retirement security, give their kids a leg-up, or dealing with deceased estates) leave the chamber shaking their heads, wondering why their application failed when similar ones were approved, and wondering why precisely none of the debate in the chamber came even close to arguing the actual merits of their proposal. Instead, they were knocked back over a general worry over "traffic", or waiting until the results of a traffic study come in that has nothing to do with their application. It's a bad signal to send to people wanting to invest in our area.
Further, what the residents of Kurrajong and Kurmond are entitled to find galling is that Council have already engaged in the process of asking you what you actually want in the area, and that the answer seems clear. Your preference is for Rural-Residential development (as opposed to Residential smaller-lot development), and the preference is for that development to be generally contigious or near the existing village centres. Despite being generally leery of development, that's something that even I can support, especially when it follows extensive community consultation.
It is disappointing to see your other elected representatives claiming that they know your minds better than you do.
Related