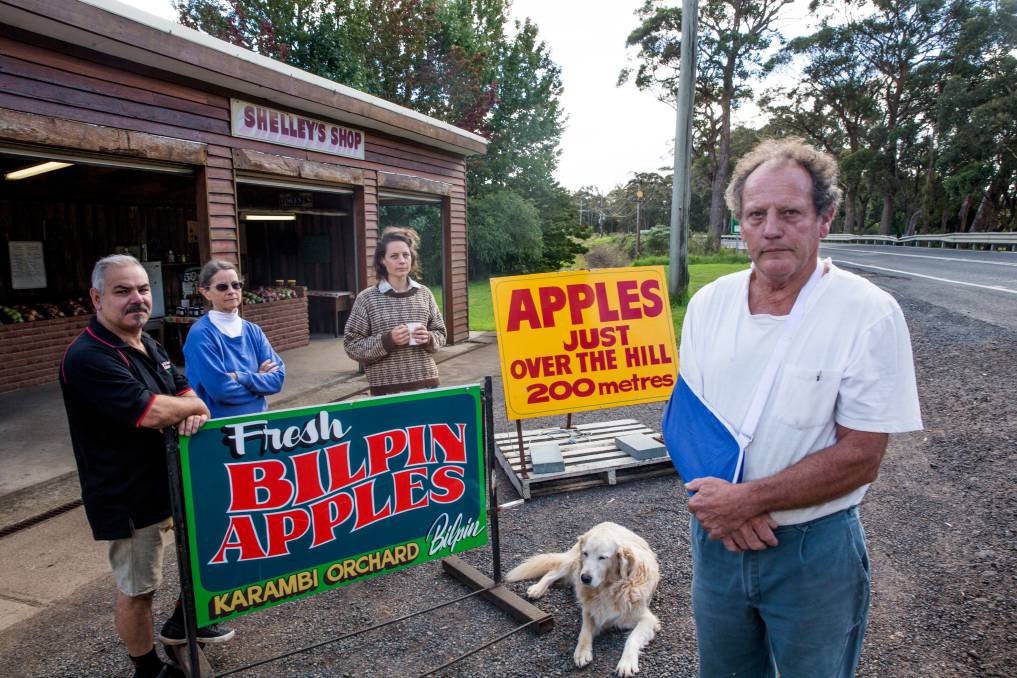 Sean Prendergast, founder of Bilpin Cider, is on the phone with me, and he's livid.
"$6000! Council fined me $6000 for having a sign on a trailer outside my business!"
My ancestors were orchardists for over a century, at Glenhaven, and so I'm immediately sympathetic.
What's worse, he tells me, is that in previous interactions with Council, he had formed the view that his current signage was compliant, after an earlier shot across the bow relating to "approach signage", meaning signage placed along Bells Line of Road to let drivers know about approaching businesses and giving them the opportunity to slow down.
As it happens, I had already been speaking to Wayne Tapping, of Wildwood Gardens, His situation is worse, as his venue and café is on Powells Rd, just off Bells Line. "Without signage on the corner to let people know where we are, our business drops by more than half" says Wayne.
And what did Council do with his A-frame signs? They impounded them at Wilberforce, and told him that if he picked them up before 5pm, they would waive the $213-per-sign fine.
Knowing this, the story that appeared in the Gazette two days ago, Orchardists Reel as signs prohibited –  rules cruel Bilpin orchards and food outlets, is entirely unsurprising, and something needs to be done about it.
The problem is that the rules governing signage in our city are too inflexible. No one wants ugly signage in our already built-up areas, and the rules are there for good reasons. That said, some strange things still slip through. The Windsor Holden building in Macquarie St Windsor is a monstrosity, but I shall move on…
But businesses in Bilpin need every support they can get from Council, not $6000 fines. Under the current rules, they aren't even permitted A-Frames (which require a form to be lodged and a $119 fee), because such signs are limited to business and industrial zones. The farm sheds most orchardists sell from are not considered business areas and are zoned "Rural". Even signs on their own properties can't be bigger than 0.75m², and higher than 2.5m above the ground. Good luck seeing that, barrelling along Bells Line at over 80km/h. Worse, our current LEP doesn't permit approach signage at all. I'm sympathetic to the argument that approach signage improves road safety by giving potential customers time to make a choice, slow down, and look for the business coming up. So it's clear that rules that work well in other places, are not working well in Bilpin.
Council's current response is to suggest that Bilpin business make better use of Social media. This is more than a little dismissive, and it isn't good enough. As the Gazette article points out, the number of orchardists in Bilpin has dropped from over eighty in the 1980s to ten today, and all of them rely on direct sales to some degree. The orchards in Bilpin are a key part of the agricultural, social and tourist fabric  of the Hawkesbury. We shouldn't let them die.
When asked by the Gazette, Council says that "If business operators request that Council look into a signage policy, then Council can look into developing a signage policy for businesses around Bilpin area to provide more guidance. Until such times the current policies remain in force."
I think we need to go beyond this. I want Council to take the initiative and develop a signage policy for Bilpin that balances the needs of those local businesses, draws the tourist trade, and yet is mindful of road safety and the aesthetic of our rural landscapes. Compliance to local ordinances and planning rules is important, but Bilpin businesspeople need our help. People like Neville Julian, and Shelley Julian, and Sam Ramaci, and Sean Prendergast, and Wayne Tapping, and many others would be entitled to think that, on current form, they aren't getting it.
I have reached out to my Councillor colleagues on this matter and so far I have received a very positive response. Stay tuned.
Related