I read once that there's an ancient tomb in Rome inscribed with a plea: 'Bill-poster, I beg you, pass this monument by. If any candidate's name is ever painted here, may he suffer defeat and never get an office.'
Strangely, that's what I recall when I see the commentariat, furious this week over the use of the Opera House sails to advertise an event; in this case, a horse race.
Some of the swirling outrage says we live in a competitive commercial culture, and the Opera House is an international icon ready-made to boost an event that's just as economically significant as Vivid, the Wallabies, the Ashes, or the Olympics; each of which have been projected on the sails.
Others say it's a desecration of a world heritage landmark, and that the Opera House is not a billboard, and asking if stewards would permit advertising on the Statue of Liberty, or the Eiffel tower, or Big Ben?
But if that's the basis of their objection, how ignorant of history these people are! The designer of the Statue of Liberty, Bartholdi, licenced his design's likeness and flogged it mercilessly to advertisers. The Eiffel tower carried the word "Citroën" in lights from top to bottom for years. And even Big Ben has been lit, although a distinction should be drawn between sanctioned commemorations like Remembrance Day, and guerrilla marketing campaigns who projected onto the landmark without permission (usually late at night) to create a media storm.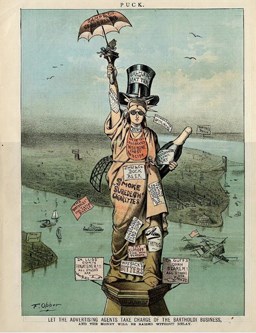 So despite the ABC's conclusion that this is an "exquisitely Sydney stoush over the city's premier billboard", this teacher of history sees today's debate as old, old news.
However, don't think I'm making excuses — The fact that it's happened forever doesn't mean it isn't in poor taste, and I want to be clear: this is.
My view is to lament that society is losing its ability to feel an aversion for the crass, which my Oxford defines as 'lacking sensitivity, refinement or intelligence'.
Do you remember when over a century of tradition surrounding the Sheffield Shield was flogged off for branding by Pura Milk, a Filipino food multinational? Or when the Melbourne Cup was flogged to Emirates, a $37 billion airline conglomerate owned by the government of the UAE? That nation has an appalling human rights record, and where, for what it's worth, gambling, with the exception of horse racing, is illegal. Oh, the irony. Or when the naming rights for Sydney's Olympic Stadium was flogged to Telstra, and then ANZ?
These branding opportunities undoubtedly made sound commercial sense. They may have boosted the profile of the events or venues, or enlarged the prize pool, or negated some need for sponsorship by government or through ticket sales. But the cost to the dignity of our society is high.
We saw a similar thing when Woolworths tried to use ANZAC images to sell groceries, or when Coopers Ale tried to do something 'woke' by placing their beer in an advertisement about same-sex-marriage. They both copped a serve for it, and deserved it.
Here's what they have in common: It's crass.  And people are right to pull a face, and lament why it isn't seen as obvious that some things should be off limits for commercialisation, regardless of the airtight spreadsheet-logic behind it.
I agree with our Premier that using the Opera House sails to promote this event is will be noticed around the world – the advertising value will be huge and there's no denying it. And equally, I'd tell her that it's a tasteless and demeaning gesture, and it should never have gotten past the thought bubble stage.
I'd like to know what you think.
Related